Tokyo/Seoul time
Tuesday, Jan 25th, 2022
Current time
Day changes in
02:49:25

Icons

Links

Info & Feedback
Jphip forums
Ranking site
jphip.com

2011-2022
Tomoko Kato

edit



Born
April 28th, 1987
Age
34

(93 days til 35th birthday)

Origin
Aichi, Japan
Nickname
Moko
Blood type
B
Height
158 cm / 5′2″
Measurements
Bust 78 cm, Waist 60 cm, Hips 80 cm
Shoe size
23.5 cm

Displaying latest pictures from JPH!P Picroda. See more pictures of Tomoko Kato.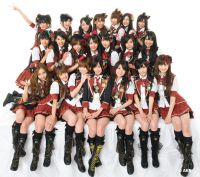 AKB48 (read "A.K.B. Forty-eight") is a Japanese girl group. As of April 2013, the group has 86 members. The girls range in age from early teens to mid-20s. Produced by Yasushi Akimoto, it is one of th...
more
Airi Furukawa

, 32




1989-12-13 :: 322 days

Akane Takayanagi

, 30




1991-11-29 :: 308 days

Akari Suda

, 30




1991-10-31 :: 279 days

Aki Deguchi

, 33




1988-03-14 :: 48 days

Ami Kobayashi

, 29




1993-01-12 :: 352 days

Ami Miyamae

, 24




1997-09-09 :: 227 days

Anna Ishida

, 25




1996-05-27 :: 122 days

Aya Shibata

, 28




1993-04-01 :: 66 days

Haruka Futamura

, 25




1996-05-14 :: 109 days

Honoka Mizuno

, 26




1995-09-01 :: 219 days
...and 39 more, click to expand
Airi Furukawa

, 32




1989-12-13 :: 322 days

Akane Takayanagi

, 30




1991-11-29 :: 308 days

Akari Suda

, 30




1991-10-31 :: 279 days

Ami Kobayashi

, 29




1993-01-12 :: 352 days

Aya Shibata

, 28




1993-04-01 :: 66 days

Haruka Futamura

, 25




1996-05-14 :: 109 days

Mai Takeuchi

, 28




1993-08-31 :: 218 days

Mieko Sato

, 35




1986-06-24 :: 150 days

Mikoto Uchiyama

, 26




1995-11-14 :: 293 days

Mina Oba

, 29




1992-04-03 :: 68 days
...and 6 more, click to expand