Tokyo/Seoul time
Friday, Jan 21st, 2022
Current time
Day changes in
13:51:14

Icons

Links

Info & Feedback
Jphip forums
Ranking site
jphip.com

2011-2022
Sawako Hata

edit



Born
September 14th, 1988
Age
33

(236 days til 34th birthday)

Origin
Osaka, Japan
Nickname
Shawako
Blood type
A
Height
161 cm / 5′3″
Measurements
Bust 78 cm, Waist 56 cm, Hips 75 cm
Shoe size
23.5 cm

Displaying latest pictures from JPH!P Picroda. See more pictures of Sawako Hata.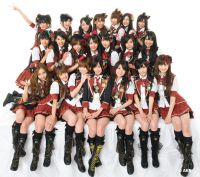 AKB48 (read "A.K.B. Forty-eight") is a Japanese girl group. As of April 2013, the group has 86 members. The girls range in age from early teens to mid-20s. Produced by Yasushi Akimoto, it is one of th...
more
Amina Sato

, 31




1990-10-16 :: 268 days

Haruka Ishida

, 28




1993-12-02 :: 315 days

Karen Iwata

, 23




1998-05-13 :: 112 days

Kumi Yagami

, 27




1994-06-13 :: 143 days

Mao Mita

, 26




1995-09-09 :: 231 days

Mayu Watanabe

, 27




1994-03-26 :: 64 days

Sawako Hata

, 33




1988-09-14 :: 236 days

Sayaka Nakaya

, 30




1991-10-15 :: 267 days

Sumire Sato

, 28




1993-11-20 :: 303 days
Akane Ito

, 24




1997-11-04 :: 287 days

Azuki Yano

, 25




1996-11-30 :: 313 days

Emiri Kobayashi

, 27




1994-04-14 :: 83 days

Erika Yamada

, 26




1995-12-26 :: 339 days

Haruka Mano

, 26




1995-04-27 :: 96 days

Haruka Ono

, 34




1987-11-24 :: 307 days

Kanako Hiramatsu

, 30




1991-11-14 :: 297 days

Kasumi Ueno

, 27




1994-06-29 :: 159 days

Kumi Yagami

, 27




1994-06-13 :: 143 days

Machiko Tezuka

, 35




1986-02-25 :: 35 days
...and 21 more, click to expand