Tokyo/Seoul time
Sunday, Aug 14th, 2022
Current time
Day changes in
00:23:13

Icons

Links

Info & Feedback
Jphip forums
Ranking site
jphip.com

2011-2022
Haruka Nakagawa

edit



Born
February 10th, 1992
Age
30

(180 days til 31st birthday)

Origin
Tokyo, Japan
Nickname
Harugon
Blood type
O
Height
157 cm / 5′2″
Measurements
Bust 80 cm, Waist 59 cm, Hips 84 cm

Displaying latest pictures from JPH!P Picroda. See more pictures of Haruka Nakagawa.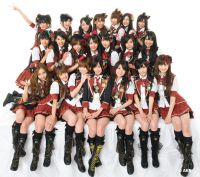 AKB48 (read "A.K.B. Forty-eight") is a Japanese girl group. As of April 2013, the group has 86 members. The girls range in age from early teens to mid-20s. Produced by Yasushi Akimoto, it is one of th...
more
Ayana Shahab

, 25




1997-06-03 :: 293 days

Beby Chaesara Anadila

, 24




1998-03-18 :: 216 days

Cindy Gulla

, 25




1997-05-29 :: 288 days

Delima Rizky

, 24




1997-10-25 :: 72 days

Devi Kinal Putri

, 26




1996-01-02 :: 141 days

Frieska Anastasia Laksani

, 26




1996-03-04 :: 202 days

Gabriela Margareth Warouw

, 24




1998-04-11 :: 240 days

Ghaida Farisya

, 27




1995-05-29 :: 288 days

Haruka Nakagawa

, 30




1992-02-10 :: 180 days

Jessica Vania

, 26




1996-01-22 :: 161 days
...and 9 more, click to expand
Haruka Nakagawa

, 30




1992-02-10 :: 180 days

Kazumi Urano

, 36




1985-10-23 :: 70 days

Mayu Watanabe

, 28




1994-03-26 :: 224 days

Mika Komori

, 28




1994-07-19 :: 339 days

Misaki Iwasa

, 27




1995-01-30 :: 169 days
Aika Ota

, 27




1994-12-08 :: 116 days

Aimi Eguchi

, 27




1995-02-11 :: 181 days

Amina Sato

, 31




1990-10-16 :: 63 days

Anna Mori

, 28




1994-03-21 :: 219 days

Atsuko Maeda

, 31




1991-07-10 :: 330 days

Ayaka Kikuchi

, 29




1993-06-30 :: 320 days

Erena Ono

, 28




1993-11-26 :: 104 days

Erena Saeed-Yokota

, 25




1997-04-15 :: 244 days

Hana Tojima

, 34




1988-07-11 :: 331 days

Haruka Katayama

, 32




1990-05-10 :: 269 days
...and 42 more, click to expand