Tokyo/Seoul time
Sunday, Sep 19th, 2021
Current time
Day changes in
14:08:48

Icons

Links

Info & Feedback
Jphip forums
Ranking site
jphip.com

2011-2021
Shutoku Mukai

edit



Born
October 26th, 1973
Age
47

(37 days til 48th birthday)

Origin
Miyaki, Saga Prefecture, Japan
Nickname
Mukai-san

Displaying latest pictures from JPH!P Picroda. See more pictures of Shutoku Mukai.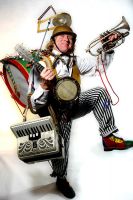 A musician (or "instrumentalist") is a person who plays a musical instrument, especially (although not necessarily) as a profession, or is musically talented. Musicians can be classified by their role...
more
Shutoku Mukai

, 47




1973-10-26 :: 37 days
Shutoku Mukai

, 47




1973-10-26 :: 37 days
Shutoku Mukai

, 47




1973-10-26 :: 37 days