Tokyo/Seoul time
Thursday, Feb 25th, 2021
Current time
Day changes in
16:23:11

Icons

Links

Info & Feedback
Jphip forums
Ranking site
jphip.com

2011-2021
Hwasa , 25

화사

/ An Hye-jin


Mamamoo

148

days until

26

th birthday!


Solar , 30

솔라

/ Kim Yong-sun


Mamamoo

Born: February 21st, 1991

361

days until

31

st birthday!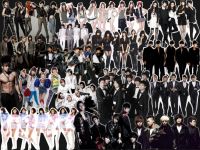 K-pop (an abbreviation of Korean pop; Korean: 가요 kayo) is a musical genre originating in South Korea, which is characterized by a wide variety of audiovisual elements. Although it incorporates all...
more
Mamamoo (마마무, often stylized as MAMAMOO) is a South Korean girl group under RBW (formerly WA Entertainment). They debuted in June 2014 with the single "Mr. Ambiguous".
Current selection stats:
People:
4
Age average:
27.4
Most common age:
25
Average height:
163.0 cm

4